Quality Agriculture Care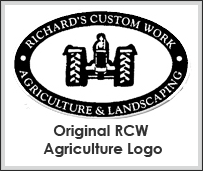 RCW Landscape and Construction in Northampton, MA has been
producing quality hay and straw for 43 years. We have hay available for dairy, livestock and equestrian operations. Straw is available for erosion
control, gardens and weed control. Please call for our current price
and availability.
While we specialize in large field mowing, ditch and embankment mowing, we also provide complete tillage services.
Tillage Services:
Field and Ditch Mowing Machinery
Click for Larger View