Welcome to RCW Landscape and Construction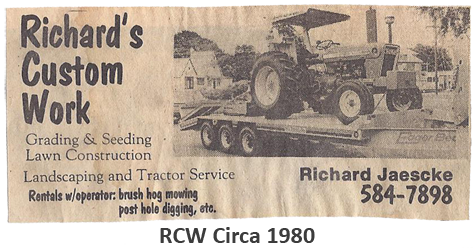 RCW Landscape and Construction was founded in 1973 by Richard Jaescke as an agriculture service company. We produced baled hay for the equestrian industry in Northampton, MA and the surrounding areas. We also did large field mowing for commercial accounts including the Northampton Industrial Park and the Mt. Tom Ski Area. Today we use all the current construction technologies, while still maintaining our agricultural roots. We support all types of local agriculture in our community.
We are fully licensed and insured for your protection. We are members of the Massachusetts Farm Bureau and we are certified for segmental retaining walls with the National Concrete Masonry Association. Whether you need hydro seeding or a paver patio, we're here to help. All you need to do is give us a call and we'll take care of the rest. In the meantime, feel free to take a look around our site to learn more about
our services.
We are a small and diversified company, providing expert quality equipment and knowledge to our clients in the areas of landscaping, excavating and agricultural needs. We have the expertise and experience to handle a variety of jobs. We are trained to provide you with the solutions you need as well as the quality
you deserve.